Optical Cage System Application: Digital Video Microscope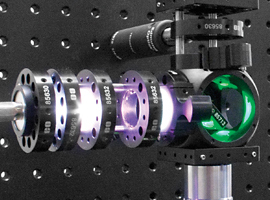 What is a Digital Fluorescence Microscope?
Unlike traditional microscopes, which utilize an eyepiece for performing visual inspection, digital video microscopes utilize cameras to record and capture images, providing higher resolution and higher precision than what is typically seen with the human eye. Since infinity corrected digital video microscopes can be quite complex, using the modular TECHSPEC® Optical Cage System is ideal for simplifying the assembly. In this case another aspect has been added to the design to incorporate a fluorescence aspect to the digital microscope. Fluorescence microscopy is ideal for measuring and analyzing the absorption and excitation of various wavelengths of light. An in-line fluorescence microscopy setup utilizes a dichroic filter to redirect light from an illuminator into the perpendicular optical path.
Why TECHSPEC® Optical Cage System?
Building a customized digital fluorescence microscope with TECHSPEC® Optical Cage System components allows the user to build a microscope quickly and easily with limitless customization options. Objectives can be changed to modify system magnification, and interchangeable filter holders make swapping filters easy. Custom illumination can be added for brightfield, darkfield, or in-line illumination options. Additionally, a spectrometer could be added for precise spectral measurements.
List of Components for Digital Video Microscope Setup
Description
Stock No.
Quantity
C-Mount Fine Thread Extension Tube (30mm-50mm Length)
#03-625
1
0.316" ID, Fiber Optic Adapter SX-6
#38-944
2
¼" x 24", Flexible Fiber Optic Light Guide
#42-346
1
5X Mitutoyo Plan Apo Infinity Corrected Long WD Objective
#46-143
1
C-Mount Extension Tube (50mm Length)
#54-632
1
C-Mount Extension Tube (100mm Length)
#54-633
1
MT-1 Accessory Tube Lens
#54-774
1
Mitutoyo to C-Mount 10mm Adapter
#55-743
1
115V, DC950H Illuminator
#62-002
1
Mitutoyo MT-1/MT-2 C-Mount Adapter
#58-329
1
13mm Travel, 0.01mm Grad. Mic. Drive F-Face
#33-726
1
EO-3112C ½" CMOS Color USB Camera
#33-521
1
EO-13122C Color USB 3.0 Camera
#59-382
1
25mm Dia. x 25mm Efl. Achromatic Lens
#65-553
1
25mm Dia. x 20mm Efl. Aspheric Lens
#66-014
1
Cage Support Rod 6mm Diameter x 50mm Length, M3
#85-486
2
Cage Support Rod 6mm Diameter x 100mm Length, M3
#85-488
4
Cage Support Rod 6mm Diameter X 150mm Length, M3
#85-490
4
Cage Support Rod 6mm Diameter x 300mm Length, M3
#85-492
4
30mm Cage 25/25.4mm Diameter Thick Lens Mount
#85-588
1
Micrometer Mount Kit
#85-618
1
Cage Sphere with (5) 30mm Ports and (1) 43mm Port
#85-624
1
30mm Standard Cage Plate with M6 for Post Mounting
#85-630
3
25mm Standard Cage Plate with M6 for Post Mounting
#85-632
3
Interchangeable Filter Holder
#85-649
2
Square Tip/Tilt Optic Mount
#85-710
1
25.4mm Dia. Adapter for 85-710
#85-713
1
30mm Cage Plate C-Mount Adapter
#85-719
2
30mm Square Interface Plate
#85-737
5
Filter Holder Plate
#86-018
2
25mm Dia. Dichroic Filter
Depends on Application
1
Fluorescence Bandpass Filters
Depends on Application
2