Small Lens Clamp for 1-3mm Dia. Optics
Size of Compatible Optics (mm):
1.0 - 3.0
Regulatory Compliance
Product Family Description
Ideal for Ball Lenses and GRIN Lenses as small as 1mm Diameter
Spring-Loaded to Hold Small Diameter Optics
1" Offset Design Allows Easy Placement with Shorter FL Lenses
1/4-20 TPI Mounting Thread
TECHSPEC® Small Optic Mounts are ideal for mounting 1 - 8mm diameter lenses. The clamps can be mounted horizontally, where the optical centerline is on a 25.4mm offset from the mounting centerline, or mounted vertically, where the optical centerline is 44mm higher than the post-mounting flat surface. TECHSPEC® Small Optic Mounts feature a spring-loaded construction that ensures secure mounting of small diameter lenses regardless of orientation. The mounting clamp width (2mm for #12-869, 3.5mm for #13-800) is thin enough to allow two short focal length lenses to be placed directly next to each other. These mounts include ¼-20 TPI threads for post mounting and can be adapted to metric posts with adapter #53-928 to easily integrate into any bench-top system.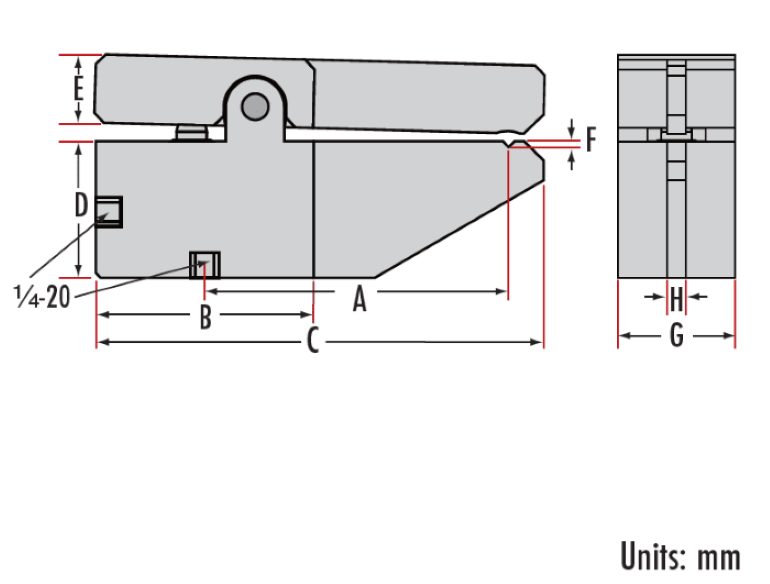 Technical Information
Dimensions


Optic Dia. (mm)

A (mm)
B (mm)
C (mm)
D (mm)
E (mm)
F (mm)
G (mm)
H (mm)
1 - 3
25.4
24
47.6
14
7
0.6
12
2
4 - 8
25.4
24
48.5
14
7
2.1
12
3