6.96mm FL, High Resolution, f/1.6, Micro Video Lens
Maximum Image Circle (mm):
9.00
Horizontal Field of View @ Max Sensor Format:
63.2
100 lp/mm @ 63.4% Contrast
100 lp/mm @ 55.9% Contrast
100 lp/mm @ 39.5% Contrast
Regulatory Compliance
Product Family Description
Up to 2/3", S-Mount Lens
Wide Field of View Board Camera Lens
1.68mm to 50mm Focal Length
Long Working Distance Optimized Imaging Lenses are designed for use in micro sensor board cameras. These lenses provide excellent image quality in a small, versatile package. Optimized to cover 2/3" sensor formats, they are an ideal choice for wide angle and close focus applications. Long Working Distance Optimized Imaging Lenses have 1.68 to 50mm focal lengths. All lenses are threaded for M12 x 0.5. Some models with Back Focal Distances (dimension "C") less than 4mm may be incompatible with some color cameras due to the camera's Bayer filter. We recommend such lenses for use with monochrome cameras only. Lenses are designed for the 400nm to 700nm range. Ideal for use with our OEM Board Cameras.
Note: A line of M12 Imaging Lens Accessories is available for these products.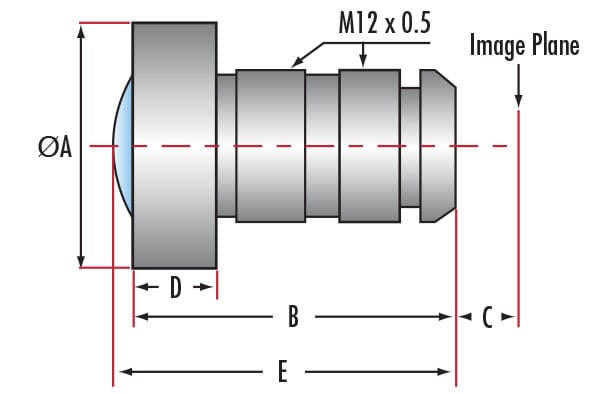 Infinite Conjugate M12 Imaging Lenses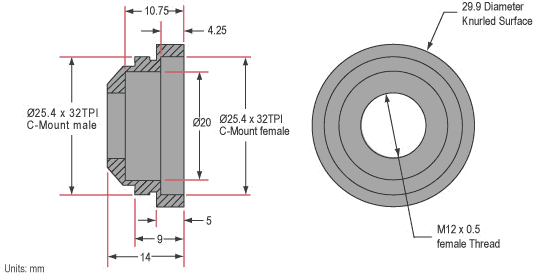 C-Mount Adapter (#53-675)
Technical Information
Stock #
Focal Length (mm)
Aperture (f/#)
A (mm)
B (mm)
C (mm)
D (mm)
E (mm)
No-IR Cut Filter
IR Cut Filter @650nm
#59-776
#66-880
1.68
2.5
15.0
13.2
3.3
2.8
15.1
#56-774
#66-881**
1.74
2.8
21.0
19.61
3.33
3.2
N/A
#64-106
-
1.9
2.0
17.0
14.58
4.2
4.0
15.24
#55-569
#66-883
2.1
2.0
17.0
18.3
4.8
3.7
19.4
#57-681
#66-884***
2.5
2.5
17.0
19.1
4.4
3.7
20.3
#55-570
#66-885
2.9
2.0
15.0
17.4
5.2
5.8
17.8
#59-778
#66-886
3.0
2.0
14.0
15.3
5.3
3.9
N/A
#57-684
#66-890
6.05
1.8
15.0
15.6
8.0
6.0
N/A
#55-573
#66-891
6.37
2.4
14.8
13.12
5.3
3.3
N/A
#55-574
#66-892
8.0
2.5
15.0
13.5
5.8
3.0
N/A
#63-762
#59-779
10.1
2.8
15.0
13.4
6.1
3.2
N/A
#65-251
#64-107
10.4
2.8
14.0
8.93
6.4
4.0
N/A
#56-775
#66-893
12.0
2.0
14.0
12.1
6.2
4.0
N/A
#64-108
#66-894
16.0
2.0
14.0
14.4
8.0
4.5
N/A
#83-107
-
16.0
4.0
14.0
14.4
8.0
4.5
N/A
#56-776
#66-895
25.0
2.5
25.0
23.2
8.1
6.7
N/A
#59-780
#66-896
35.0
2.0
25.0
23.4
15.8*
6.0
N/A
#59-781
#66-897
50.0
2.5
27.0
52.8
4.1
8.0
N/A

*Note: 35.0mm lens has a large flange focal length. Please make proper adjustments when mounting.
**#66-881, B(mm): 20.49
***#66-884, B(mm): 19.8, E(mm): 21
High Resolution Infinite Conjugate μ-Video™ Imaging Lenses
Stock #
Focal Length (mm)
Aperture (f/#)
A (mm)
B (mm)
C (mm)
D (mm)
E (mm)
#88-587
3.0
2.0
15.0
15.35
5.2
4
16
#88-588
3.5
2.5
15.0
15.4
6.9
4
N/A
#11-323
3.7
1.6
19
24.04
5.46
6.5
24.16
#11-324
4.0
1.8
20
23.8
5.01
7
24.72
#88-589
4.0
2.0
15.0
16.1
5.9
3.8
N/A
#88-590
4.3
2.0
22.0
20.96
5.5
6
21.93
#11-325
4.6
1.6
19
24.18
5.44
7
24.32
#88-591
4.6
2.0
12.0
13.1
1.9
6
N/A
#88-592
5.6
2.0
17.0
22.21
5.3
5
22.38
#89-750
6.0
2.0
14.0
15.1
6.7
3.93
N/A
#11-326
7.0
1.6
19
25.24
5.47
7.2
24.2
#89-751
8.0
2.0
15.0
14.4
6.8
4.5
N/A
#89-752
12.0
2.0
15.0
14.3
5.7
4.5
N/A