60X DIN Achromatic Finite Intl Standard Objective
Design Wavelength DWL (nm):
546
Effective Focal Length EFL (mm):
3.21
Length excluding Threads (mm):
44.70
Compatible Tube Lens Focal Length (mm):
Focal Length: 160mm
Field of View, 18 Diameter Field Eyepiece (mm):
0.30
Operating Temperature (°C):
+10 to +40
Max 85% at 35°C with no condensation
Regulatory Compliance
Product Family Description
For Use with RMS Thread Microscopes
AR Coated Optics
4X to 100X Magnifications Available
International Standard Microscope Objectives can be used with most major brands of microscopes that utilize RMS mounting threads. Our product offering features DIN 45mm standard objectives with achromatic and semi-plan designs. The achromatic design ensures proper color correction for broadband white light sources, while semi-plan designs have an added feature to create a flatter image field. International Standard Microscope Objectives include AR-coated optics to ensure maximum transmission and reduce internal reflections in the optical assembly. All 20X to 100X objectives have spring-loaded (retractable) front ends to prevent slide damage.

Note: Oil immersion is recommended for all 100X objectives with an NA higher than 1.0 (part number #86-834).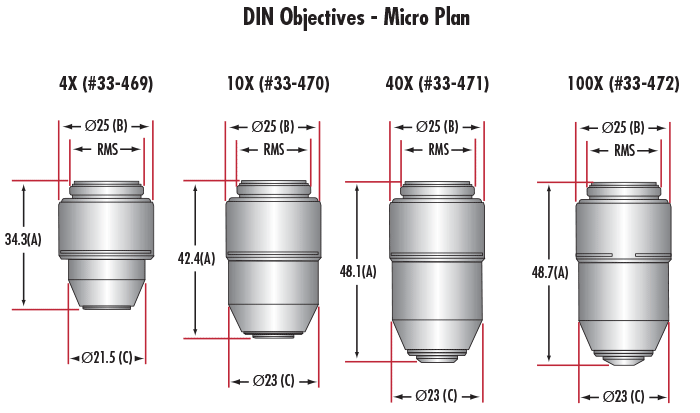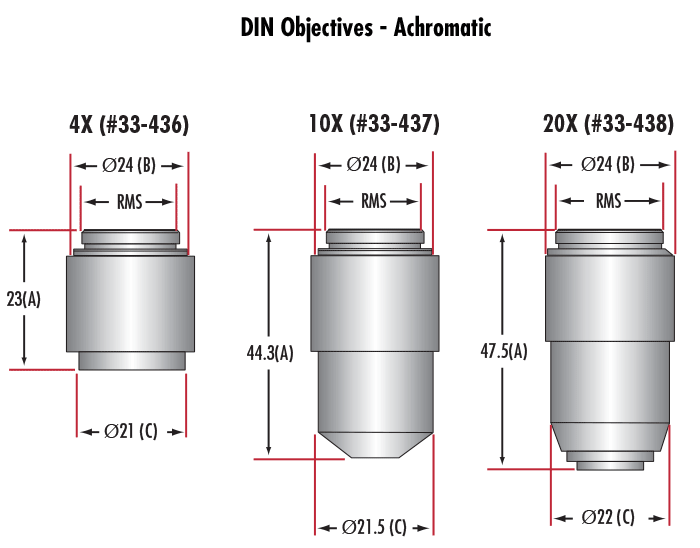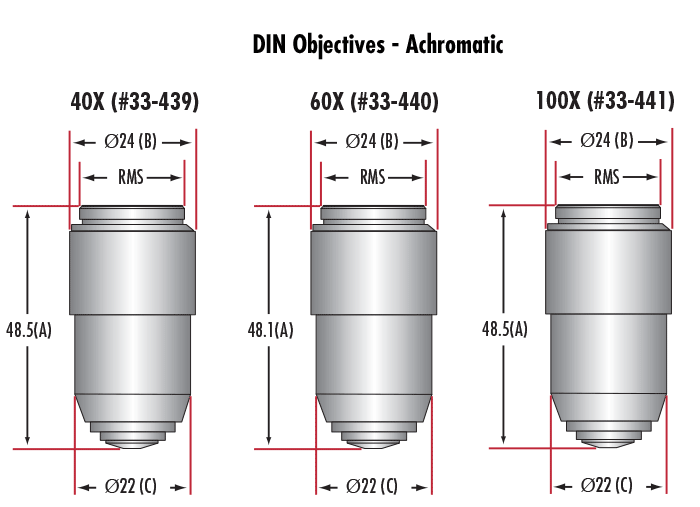 Technical Information
DIN Objectives - Achromatic
Magnification
A
B
C
4X
23mm
24mm
21mm
10X
44.3mm
24mm
21.5mm
20X
47.5mm
24mm
22mm
40X
48.5mm
24mm
22mm
60X
48.1mm
24mm
22mm
100X
48.5mm
24mm
22mm
DIN Objectives - Micro-Plan
Magnification
A
B
C
4X
34.3mm
25mm
21.5mm
10X
42.4mm
25mm
23mm
40X
48.1mm
25mm
23mm
100X
48.7mm
25mm
23mm