25.4mm Wire Grid Polarizing Cube
>62% @ 450nm
>65% @ 550nm & 650nm
1100:1 @ 450nm
2000:1 @ 550nm
3000:1 @ 650nm
Tp >72% @ 450nm
Tp >75% @ 550nm
Tp >78% @ 650nm
Transmitted Wavefront Distortion (RMS):
<0.33λ @ 633nm
Regulatory Compliance
Product Family Description
High Contrast Over Large Angles of Incidence
Low Color Shift at Large Angles
Ideal for Uncollimated Light Sources
Wire Grid Polarizing Cube Beamsplitters are designed for applications using uncollimated light, such as with a broadband white light source. Wire Grid Polarizing Cube Beamsplitters consist of a wire grid polarizer cemented between two precision high tolerance right angle prisms. An anti-reflection coating has been applied to each face of the beamsplitter to provide less than 0.5% average reflection per surface. Additionally, these beamsplitters maintain their contrast spectrally from 400 – 700nm and over a large cone angle of ±25°.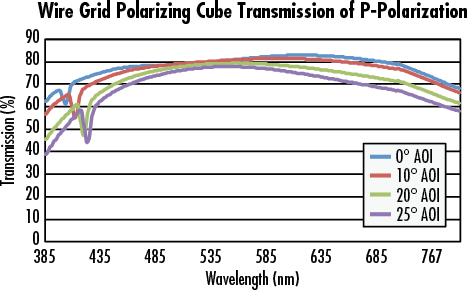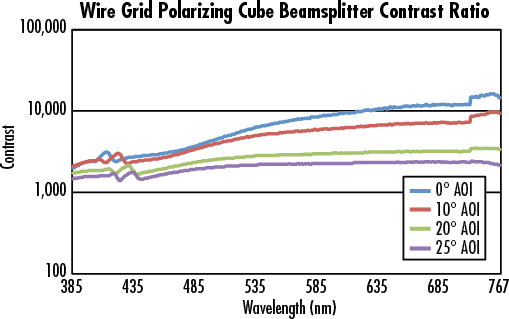 Technical Information
Contrast (typical)
Wavelength
Incident Cone of Light
±5°
±10°
±15°
±20°
±25°
400 - 500nm
2,100:1
2,000:1
1,600:1
1,400:1
1,100:1
500 - 600nm
4,000:1
3,900:1
2,900:1
2,600:1
1,900:1
600 - 700nm
6,000:1
5,500:1
4,200:1
3,800:1
2,500:1