Lenses with Optical Power in One Axis
| | |
| --- | --- |
| | Tightly Controlled Optical and Geometric Tolerances |
| | |
| --- | --- |
| | Rectangular and Circular Form Factors Available |
| | |
| --- | --- |
| | 3 Performance Tiers Available: Illumination, Imaging, Beam Shaping |
| | |
| --- | --- |
| | In-House Design and Coating Capabilities for Custom Requests |
| | |
| --- | --- |
| | In Stock for Immediate Delivery |
| | |
| --- | --- |
| | N-BK7, UV Fused Silica, and N-SF5 Substrates Available |
Cylinder lenses are crucial to a wide range of laser applications including circularizing elliptical beams from a laser diode, focusing a diverging beam onto a linear detector array, creating a light sheet for measurement systems, or projecting a laser line onto a surface. They are similar to spherical lenses in the sense that they use curved surfaces to converge or diverge light, but cylinder lenses have optical power in only one dimension and will not affect light in the perpendicular dimension. Edmund Optics® is a premier provider of cylinder lenses including achromatic, acylindrical, plano-convex, and plano-concave lens geometries.
Common Applications
The three most common applications of cylinder lenses include forming a laser line, forming a laser sheet, and circularizing an elliptical laser beam.
Selection Guide
Edmund Optics® offers Cylinder Lenses with circular, rectangular, or oblong dimensions. Multiple anti-reflection coating options are available from the ultraviolet to the infrared, including UV-AR, UV-VIS, MgF2, VIS-NIR, VIS 0°, NIR I, or NIR II. Achromatic Cylinder Lenses provide additional color correction by minimizing chromatic aberration. Full prescription data is available for download, in addition to 2D or 3D models.
Illumination Cylinder Lenses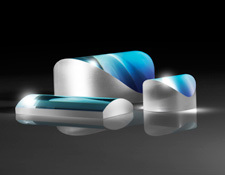 Illumination Cylinder Lenses are the most economical option EO offers and have the most options for size and focal length; but they don't have as tight performance tolerances. They are ideal for cost-sensitive illumination applications. View Product
Pros:
Wide selection of sizes and focal lengths
Most cost-effective option
Cons:
Undefined wavefront specification
Limited geometric tolerancing
Imaging Cylinder Lenses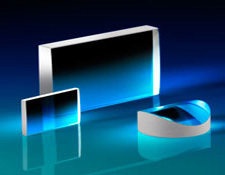 Imaging Cylinder Lenses have better wavefront error and wedge tolerances than Illumination Cylinder Lenses, but they have the same surface quality and fewer size and focal length options. They are ideal for generating laser lines and laser sheets. View Product
Pros:
Balance of performance and price
Cons:
Size limited to 10 x 20mm and below
Beam Shaping Cylinder Lenses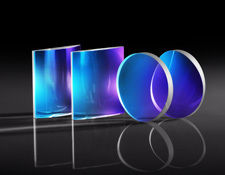 Beam Shaping Cylinder Lenses are an optimal pairing of tightly controlled tolerances and optimal pricing for volume integration. They are ideal for beam shaping applications such as circularizing elliptical beams from a laser diode, creating a light sheet for measurement systems, or projecting a laser line onto a surface. View Product
Pros:
Tightly controlled optical tolerances including wavefront error, surface quality, and wedge
Tightly controlled geometric tolerances of plano axis wedge, power axis wedge, and axial tilt
Ideal combination of price and quality
Cons:
More expensive than Illumination Cylinder Lenses
Acylinder Lenses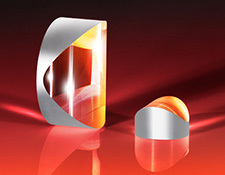 Acylinder Lenses have an aspheric surface that greatly reduces spherical aberration. They feature diffraction limited performance and are ideal for creating thin line profiles of monochromatic light sources. View Product
Pros:
Diffraction limited design allows them to create extremely sharp, thin laser lines
Cons:
Most expensive cylinder lens option
Subject to severe spherochromatism
Achromatic Cylinder Lenses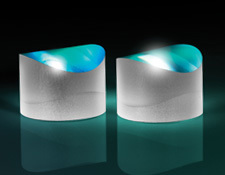 Achromatic Cylinder Lenses consist of a positive low-index (crown) element and a negative high-index (flint) element cemented together to minimize chromatic and spherical aberration. They are ideal for use with broadband light sources due to their color correction. View Product
Pros:
Chromatic aberration correction allows for use with broadband light sources
Spherical aberration correction allows for creation of thin laser lines
Cons:
More costly than most cylinder lens options
Limited options for size and specifications